Fresh Ginger Pancakes with Caramel Lime Fruits
Serves: 4
Cost Cutting Eco Friendly Quick Make
Liven up your breakfast with this exotic little number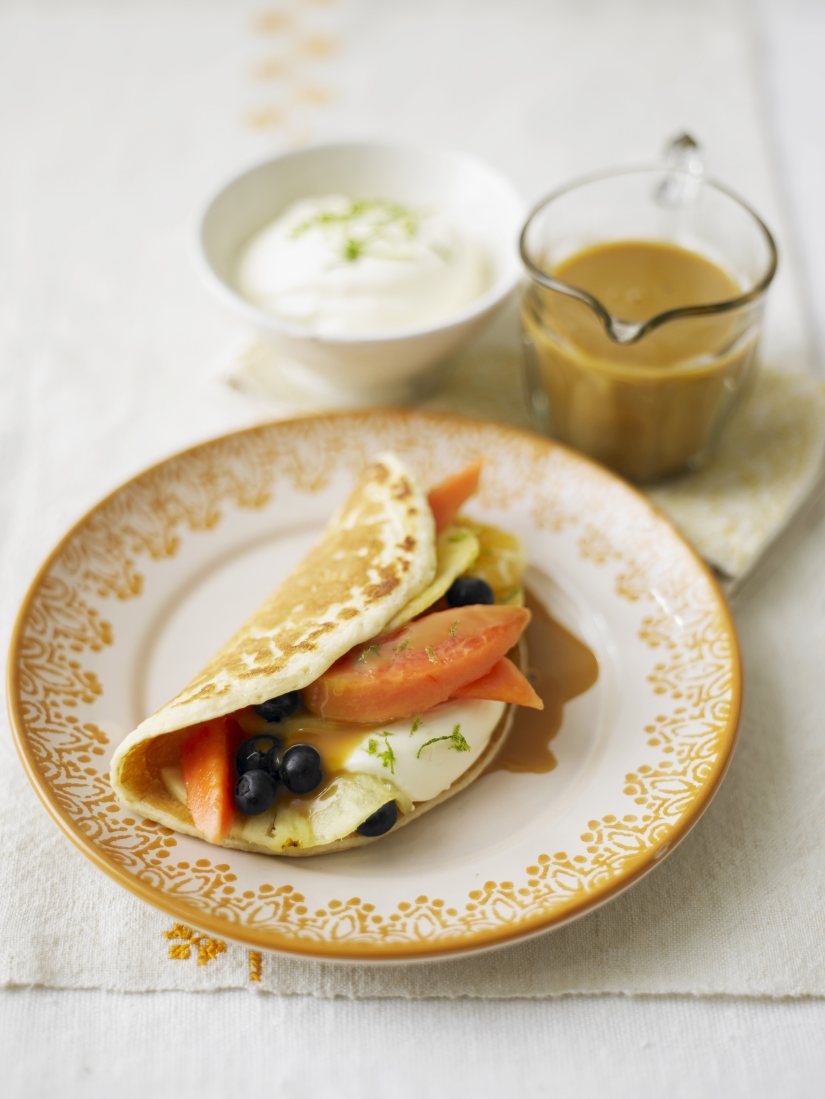 Ingredients:
For the filling:
8 tbsp Bonne Maman Caramel Spread
4 tbsp fresh orange, mango and passion fruit juice [or any other tropical fruit juice]
grated zest and juice of 1 lime
½ papaya, seeded and sliced
¼ pineapple, thinly sliced
50g blueberries
a little melted butter for cooking
200ml tub crème fraîche
For the pancake batter:
125g self-raising flour
3 tbsp caster sugar
1 free-range egg
150ml whole milk
½ tsp baking powder
2 tsp finely grated fresh ginger
method:
Stir together the Bonne Maman Caramel Spread, fruit juice and 2 tsp lime juice with 2 tbsp water.
Put all the fruit in a bowl and stir in 2-3 tbsp of the caramel sauce.
Whisk together the batter ingredients until smooth.
Heat an 18-20cm non-stick pan and brush lightly with melted butter.
Ladle in 50-60ml of batter and tilt the pan so that the batter forms a large pancake. Cook until the surface is covered with bubbles then flip over and cook for a further one minute. Tip on to a plate. Continue until you have used all the batter.
To serve: put the pancakes onto serving plates and spoon a little crème fraîche and caramel fruits onto one half. Fold over and serve drizzled with the remaining caramel sauce and some lime zest.
Print Recipe
www.bonnemaman.co.uk/
Did you make this recipe?
Share your creations by tagging @livegreenandgood on Instagram with the hashtag #livegreenandgood