Courgette and Tomato Lasagne
Serves: 4
Ready in: 30 to 60 mins
A meat-free alternative to the traditional version, this hearty lasagne is perfect for the whole family. If you don't have courgette or mushrooms, simply subsitute them with whatever veg you have in the fridge!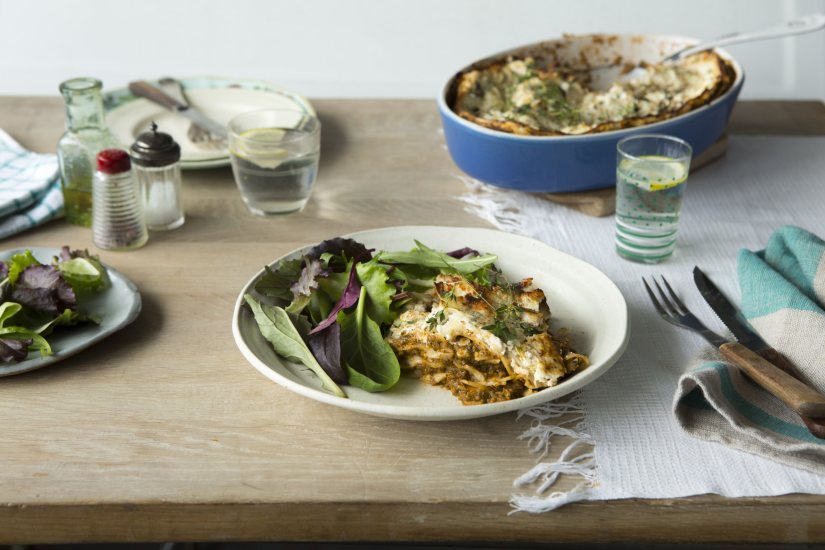 Ingredients:
Frylight Extra Virgin Olive Oil cooking spray
1 onion, chopped
2 courgettes, sliced
3 garlic cloves, finely chopped
200g mushrooms, sliced
100ml red or white wine
2 tbsp sundried tomato purée
400g tin chopped tomatoes
200g passata
100g baby spinach
2 tbsp each fresh basil and fresh parsley, chopped
250g pack fresh lasagne sheets
a few fresh sprigs of thyme
For the topping:
250g ricotta
30g vegetarian-friendly hard cheese, grated
4 tbsp skimmed milk
4 spring onions, finely chopped
method:
Heat the oven to 190°C. Spray a 1.5–2 litre ovenproof dish with Frylight.
Spray a large frying pan with Frylight to cover the cooking surface of the pan and set over a medium heat. Wait until the Frylight goes clear, then add the onion, courgettes, garlic and mushrooms. Cook for 5-7 minutes, until softened.
Stir in the wine, tomato purée, chopped tomatoes and passata. Bring to a gentle boil and cook for five minutes, until reduced by a third. Stir in the spinach and the chopped basil and parsley.
If you prefer a smoother texture, place your sauce into a food processor and blitz; if you prefer a chunkier texture, then leave it as is.
Blitz all of the topping ingredients in a food processor until smooth.
To assemble the lasagne, layer a third of the vegetable mix in the prepared dish, and top with a third of the lasagne sheets. Repeat twice more.
Spread the cheese topping over the final layer. Sprinkle over more nutmeg and press in the sprigs of thyme.
Bake for 30–35 minutes, then serve.
Print Recipe
www.frylight.co.uk/recipes/vegetarian/courgette-and-tomato-lasagne/
Did you make this recipe?
Share your creations by tagging @livegreenandgood on Instagram with the hashtag #livegreenandgood