Tomato and Spinach Rice (Tamatar Palak Bhat)
Serves: 4
Ready in: 30 to 60 mins
Know your nutrients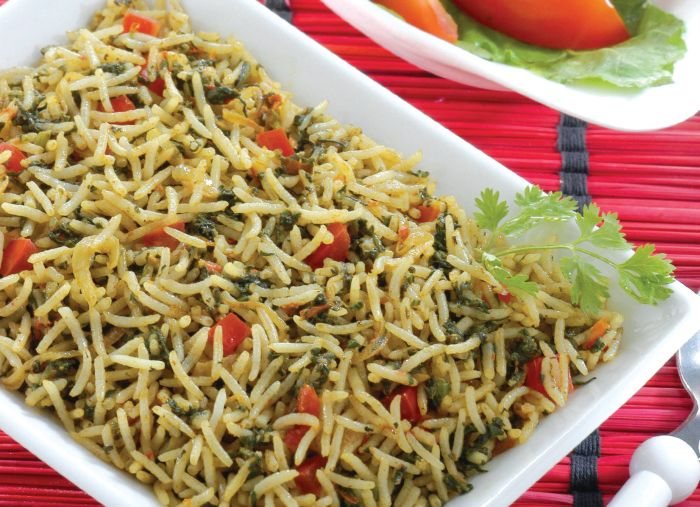 Ingredients:
400g Kohinoor Basmati rice, washed, soaked in enough cold water to cover for 30 minutes and drained
3 tbsp sunflower oil
30g onion, thinly sliced
1 tomato, finely chopped
275g spinach, washed and finely chopped
1/4 tsp turmeric powder
1 tsp coriander seeds, roasted and powdered
1 tsp cumin seeds, roasted and powdered
salt to taste

method:
Cook the spinach in 120ml of water until tender with no water remaining and set aside.
Heat the oil in a heavy bottomed pan, add the onions and sauté until brown. Add the drained rice and stir carefully to coat the rice grain with the oil.
Add the tomatoes, cooked spinach, turmeric powder, coriander powder and salt. Stir carefully to mix together thoroughly and heat through.
Add 720ml of water and bring to the boil. Cover the pan with a tight lid and reduce heat to very low. Continue to cook for 20-23 minutes. Remove the cover and stir the rice gently. Continue to cook for another 7-10 minutes on a very low heat.
Print Recipe
www.kohinoorfoods.co.uk
Did you make this recipe?
Share your creations by tagging @livegreenandgood on Instagram with the hashtag #livegreenandgood