Sunflower and Chia Seed Bread Cups with Roasted Mediterranean Vegetables
Serves: 6
Ready in: 30 to 60 mins
Cost Cutting Eco Friendly Vegan Friendly
Bread cups! What an inspired way to present fillings!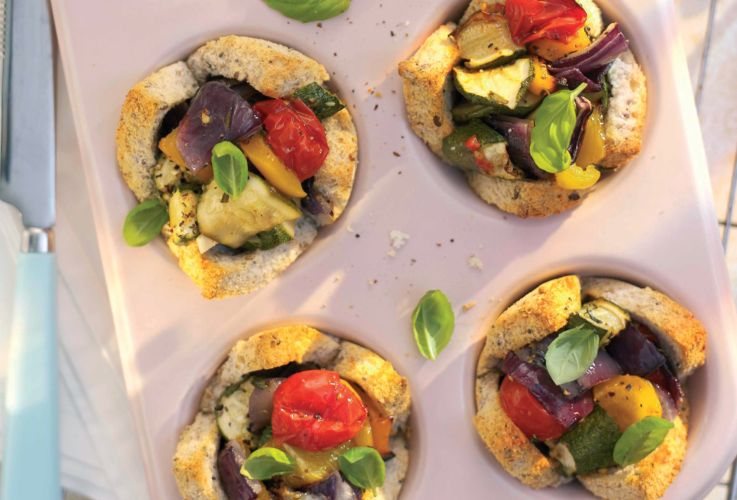 Ingredients:
6 slices Burgen Sunflower & Chia Seed Bread, crusts removed
1 large courgette, trimmed and chopped
1 large red onion, roughly chopped
1 yellow pepper, seeded and cut into chunks
1 garlic clove, crushed
1 tbsp fresh chopped rosemary
1 tbsp sunflower oil
125g cherry tomatoes
method:
Preheat the oven to 200C/400F/Gas 6. Gently press the sliced bread into six holes in a muffin tin, pressing the bread into the base.
Toss together the courgette, red onion, yellow pepper, garlic, rosemary, sunflower oil and cherry tomatoes, and spread into a roasting tin large enough for the vegetables to be in a single layer. Roast for 20 minutes on the top shelf of the oven. Stir well.
Arrange the bread cups on the middle shelf of the oven underneath the vegetables and cook both for an extra 10 minutes until the bread cups are beginning to toast.
Remove the bread cups and stand them on a clean baking sheet. Divide the roasted vegetables between the cups and bake for five minutes to crisp up. Scatter with fresh basil leaves to serve.
Print Recipe
www.burgenbread.com
Did you make this recipe?
Share your creations by tagging @livegreenandgood on Instagram with the hashtag #livegreenandgood