SHIITAKE MUSHROOM & SPINACH PIE
Serves: 4
Try out this delicious recipe to celebrate British Pie Week - 5th to 11th March. So British pies can be vegan and gluten-free too! This recipe also includes the rather specialist ingredient that is Shiitake mushroom. Not only does this mushroom have a deep flavoursome taste but it is also beneficial in its ability to support the immune system. Spring is a great time of year to include more exotic mushrooms in your diet to stave off the last of the winter illnesses and boost your whole system ready for spring.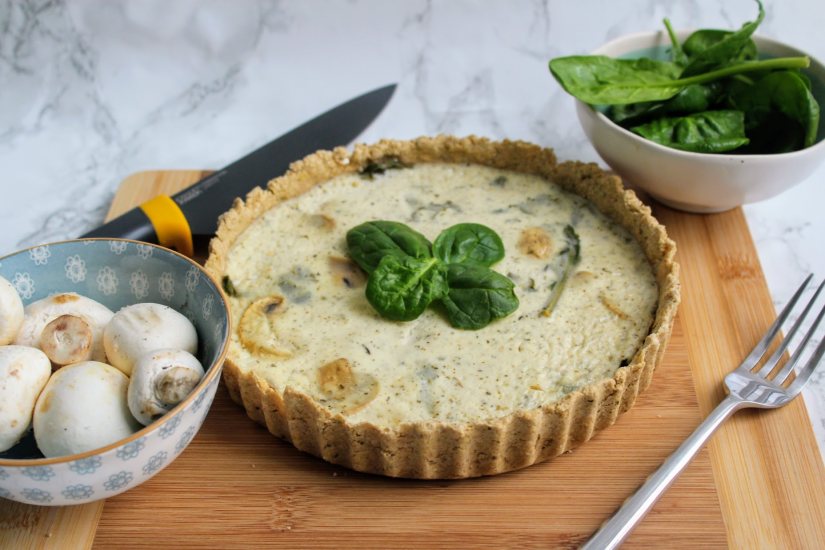 Ingredients:
For the pastry
100g rolled gluten-free oats
100g Indigo Herbs Brown Rice or Quinoa Flour
1 teaspoon dried mixed herbs
½ teaspoon dried oregano
Salt and black pepper, to season
2 tablespoons rapeseed or olive oil
150ml unsweetened almond or soya milk
<
h4> For the filling -
<
h4> 250g silken tofu
100ml unsweetened almond or soya milk
2 tablespoons corn flour
1 teaspoon dried mixed herbs
2 teaspoons Indigo Herbs Shiitake Mushroom Powder
1 tablespoon nutritional yeast (optional)
1 teaspoon rapeseed or olive oil
2 cloves garlic, crushed
150g mushrooms, sliced
2 large handfuls spinach
method:
Preheat the oven to 190 degrees C.
First make the pastry - Place the oats in a blender or food processor and whizz up to form a flour. Tip into a bowl and mix with the quinoa/brown rice flour, herbs and seasoning. Pour in the oil and choice of milk and mix together to form a dough. Place in a greased 20cm loose-bottomed tart tin and use your hands to push the pastry evenly up the sides and to cover the base. Prick with a fork then bake in the oven for 15 minutes until starting to turn golden.
Meanwhile place the tofu, milk, mushroom powder, corn flour, herbs and nutritional yeast (if using) in a blender and whizz up until smooth
Heat the oil in a pan and cook the mushrooms and garlic on a medium heat for 10-15 minutes until softened. Throw in the spinach at the end to wilt.
Remove from the tin from the over and spoon in the cooked spinach and mushrooms. Pour over the creamy mixture then return back to the oven and bake for a further 20 minutes until firmed up. Leave to cool a little then slice and serve - or enjoy cold!
Print Recipe
For More Mushroom Recipes from Indigo Herbs - www.indigo-herbs.co.uk/recipe?combine=mushroom&field_quality_value=All&field_recipe_collection_tid=All&field_plant_tid=All&field_benefit_tid=All&field_product_type_tid=All
Did you make this recipe?
Share your creations by tagging @livegreenandgood on Instagram with the hashtag #livegreenandgood